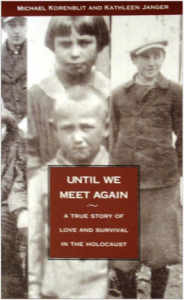 Until We Meet Again:
A True Story of Love & Survival in the Holocaust
Michael Korenblit & Kathleen Janger
(Bestseller & Inspiration for Respect Diversity Foundation)
(Find it on Amazon.com.)
A favorite selection of teachers and other educators throughout the United States, often taught alongside (or, in some cases, instead of)The Diary of Anne Frank and other classics. Until We Meet Again shares the inspirational story of two families decimated by the Holocaust in 1942 in a small town in Poland. When the Nazis begin their massive deportations of Jews from their hometown, 17-year-old Manya decides to leave her family and join her sweetheart, Meyer, in hiding with his family. Over the next three years, Manya and Meyer endure the loss of their parents and siblings, separation from each other, and the horror of concentration camps–sustained largely by their faith and love for each other and the help of courageous Polish Catholics.
Co-authored by their son Michael, "Until We Meet Again" has been praised by historians for its vivid portrayal of the times, by teachers for its educational significance, & by all readers for its absorbing & inspiring narrative.
Michael Berenbaum of the United States Holocaust Memorial Museum says, "Korenblit & Janger show that whoever retells the story of one person recovers an entire world, in all its complexity & drama…One can only admire this well-written work of filial devotion."
For seminars with Michael Korenblit or copies of Until We Meet Again, contact us now.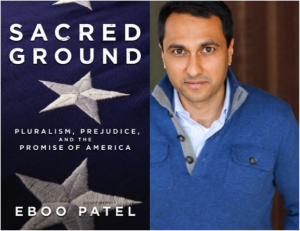 Eboo Patel
Sacred Ground: Pluralism, Prejudice, and the Promise of America
America's promise is to guarantee equal rights for all identities … That is America's genius.
In his latest book, Sacred Ground: Pluralism, Prejudice, and the Promise of America, interfaith activist Eboo Patel asks us to share in his vision of a better America—a robustly pluralistic country in which our commonalities are more important than our differences. Patel posits that Americans from George Washington to Martin Luther King, Jr. have been "interfaith leaders," and illustrates how the forces of pluralism have time and again defeated the forces of prejudice. Pluralism, Patel boldly argues, is at the heart of the American project. His prescient voice carries particular weight and wisdom for a city recently crowned America's most diverse.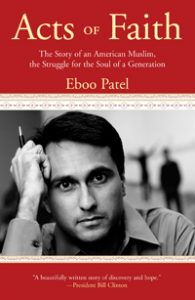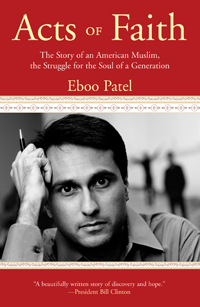 "Acts of Faith, a beautifully written story of discovery and hope, chronicles Dr. Eboo Patel's struggle to forge his identity as a Muslim, an Indian, and an American. In the process, he developed a deep reverence for what all faiths have in common, and founded an interfaith movement to help young people to embrace their common humanity through their faith. This young social entrepreneur offers us a powerful way to deal with one of the most important issues of our time." —President Bill Clinton
Teaching Tolerance:
Raising Open-Minded, Empathetic Children
Sara Bullard (Find it on Amazon.)
"Teaching Tolerance is an invitation to parents and teachers: an invitation to examine their own habits and attitudes toward the community around them. Sara Bullard believes that once a parent is aware of the attitudes they were raised with, it is easier for them to teach their children true tolerance toward others.
The first chapters of Teaching Tolerance focus on the humanness of intolerance-no one is truly exempt from the habit of judging others. The fourth chapter outlines the work required to alter intolerant instincts. The last four chapters walk parents through children's need for security, self-expression and moral guidance; needs which, if respectfully met, will free them to be comfortable both with themselves and with people of different backgrounds.
Bullard concludes each chapter with questions and suggestions for journal writing to help parents further explore their own attitudes. Also included is an extensive list of books, toys, games and music that explore ethnicity and promote tolerance." (Book Description from Amazon.com)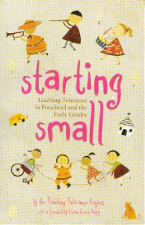 Starting Small:
Teaching Tolerance in Preschool and the Early Grades
Teaching Tolerance Project (Find it on Amazon.)
"The teachers of young children who speak to us so earnestly in the stories in Starting Small work in different communities but share a common vision: that children can learn to care about every other person's feelings, beliefs and welfare.
The notion may seem commonplace, something surely found in most classrooms. Yet, given the number of sad faces, hurt feelings and lonely outsiders in our schools, the empathy factor may be more talked about than systematically pursued.
In the hearts and minds of the teachers described in this training, it is a full-time commitment that begins anew with each child and family…. Promoting empathy would be a major undertaking for any classroom, but the teachers in this book go further. They believe that perceiving the feelings, thoughts and motives of another person is the first step in building a bridge. What must follow is the discovery, day by day, of how to move in both directions across that bridge." (From
the Foreward, available on Tolerance.org.)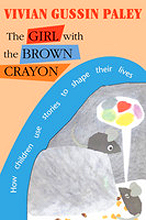 The Girl with the Brown Crayon:
How Children Use Stories to Shape Their Lives
Vivian Gussin Paley (Find it on Amazon.)
"Once again Vivian Paley takes us into the inquiring minds and the dramatic worlds of young children learning in the kindergarten classroom.
As she enters her final year of teaching, Paley tells in this book a story of farewell and a story of self-discovery–through the thoughts and blossoming spirit of Reeny, a little girl with a fondness for the color brown and an astonishing sense of herself. "This brown girl dancing is me," Reeny announces, as her crayoned figures flit across the classroom walls. Soon enough we are drawn into Reeny's remarkable dance of self-revelation and celebration, and into the literary
turn it takes when Reeny discovers a kindred spirit in Leo Lionni–a writer of books and a teller of tales. Led by Reeny, Paley takes us on a tour through the landscape of characters created by Lionni. These characters come to dominate a whole year of discussion and debate, as the children argue the virtues and weaknesses of Lionni's creations and his themes of self-definition and an individual's place in the community.
The Girl with the Brown Crayon tells a simple personal story of a teacher and a child, interweaving the themes of race, identity, gender, and the essential human needs to create and to belong. With characteristic charm and wonder, Paley discovers how the unexplored territory unfolding before her and Reeny comes to mark the very essence of school, a common core of reference, something to ponder deeply and expand on extravagantly." (Book Description from Amazon.com)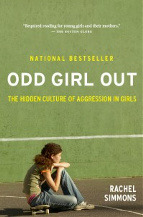 Odd Girl Out:
The Hidden Culture of Aggression in Girls
(Revised & Updated)
Rachel Simmons
(Find it on Amazon.)
"When Odd Girl Out was first published, it became an instant bestseller and ignited a long-overdue conversation about the hidden culture of female bullying. Today the dirty looks, taunting notes, and social exclusion that plague girls friendships have gained new momentum in cyberspace.
In this updated edition, educator and bullying expert Rachel Simmons gives girls, parents, and educators proven and innovative strategies for navigating social dynamics in person and online, as well as brand new classroom initiatives and step-by-step parental suggestions for dealing with conventional bullying. With up-to-the-minute research and real-life stories, Odd Girl Out continues to be the definitive resource on the most pressing social issues facing girls today. (Book Description from Amazon.com)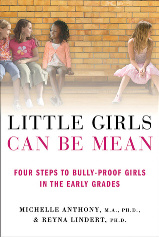 Little Girls Can Be Mean:
Four Steps to Bully-Proof Girls in the Early Grades
Michelle Anthony & Reyna Lindert
(Find it on Amazon.)
"Worried about mean girls? Help your daughter respond and react to bullying where it starts—in elementary school
As experts in developmental psychology and each a mother of three, Dr. Michelle Anthony and Dr. Reyna Lindert began noticing an alarming pattern of social struggle among girls as young as five, including their own daughters. In todays world, it is likely that your daughter has been faced with bullying and friendship issues, too—and perhaps youre at a loss for how to guide her through these situations effectively. Little Girls Can Be Mean is the first book to tackle the unique social struggles of elementary-aged girls, giving you the tools you need to help your daughter become stronger, happier, and better able to enjoy her friendships at school and beyond.
Dr. Anthony and Dr. Lindert offer an easy-to-follow, 4-step plan to help you become a problem-solving partner with your child, including tips and insights that girls can use on their own to confront social difficulties in an empowered way. Whether your daughter is just starting grade school or is already on her way to junior high, youll learn how to:
OBSERVE the social situation with new eyes;
CONNECT with your child in a new way;
GUIDE your child with simple, compassionate strategies;
SUPPORT your daughter to act more independently to face the social issue
By focusing squarely on the issues and needs of girls in the years before adolescence, Little Girls Can Be Mean is the essential, go-to guide for any parent or educator of girls in grades K-6." (Book Description from Amazon.com)