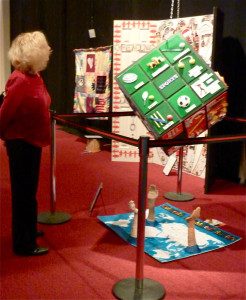 "When I first saw the Respect Diversity Symbol Exhibit, it took my breath away. I had the same feeling as when I first saw the Chihuly exhibit. I was overwhelmed with the quality of artworks; stunned by the depth of understanding the students had concerning the meaning of respect for diversity." John Clinton, Dean of the College of Fine Arts and Design & Founder of the Oklahoma Center for Arts Education ("OCAE"): University of Central Oklahoma.
"You all are doing GREAT things!" Brenda Granger, Chief Executive Officer, Oklahoma Museum Association
"The Anti-Defamation League recognizes and applauds the work of the Respect Diversity Foundation. The Respect Diversity Symbol Campaign invites people to combine imagination and understanding in creating art and poetry that emphasizes the value of diversity. In doing so, your message reaches others and reinforces that diversity implores respect, not prejudice." Caryl Stern-LaRosa, Education Division Director, Anti-Defamation League
"Until We Meet Again is the first book that ever made me laugh, cry, and laugh again… enthralled in listening to the story… if it impressed anyone else nearly as much as it impressed me, you've made a huge difference. I applaud your organization and will continue to support your efforts to enlighten all citizens of Oklahoma regarding the importance and value of each individual, no matter what race, ethnicity or religion. Thank you for this most important work." Lynne Saunders, Esq.
"You have really inspired us all. Many times we forget how much prejudice there is and what it can lead to. Thank you for sharing your parents story and for making us all better people." JD
"The world will get better just as long as we keep working on it. Thanks for doing your good work." CE
"It is so important for us to be reminded that murder often begins with harassment, and that we need to stand up for those who are being harassed. Thank you for your courage and for sharing." CA
"I have to say that I have never heard a more meaningful story." BB
"You have planted seeds in my heart of renewed hope and faith." GH
"In reality, tolerance strengthens the unique qualities of each individual." SP
"People like you, Michael, inform, educate, and guide us in the right direction. Your efforts are not in vain. Thank you for making a difference." MM
"So often I look at the huge world problems and think, 'What a shame, but I dont really have anything to do with that.' Thank you for showing me that the small things we do really do add up to the big issues. I may not be the problem, but I must be the solution." GB
"I hope that, as a mother, I can teach my children to love all people. Thank you for your message of hope." LL
"I hope you will continue to keep us aware of the inequalities of the world. Robert Kennedy talked, in a speech in South Africa, about 'making the ripple.' You certainly have made that ripple in my life." FA
"Thank you for the heartfelt and emotional story of your family. I was in the audience at Pronghorn School and have never seen a group of 5th and 6th graders so quiet and solemn attending any speaker during my career. I brought my 7th grade daughter to hear you tonight because your message is so important." Thank you! TM
"I hope and pray that when the time of harassment comes for each person in this room that we will remember your story, and that we will take a stand for justice and fairness and do something to stop the harassment." ST
"Thank you for sharing your story. Most of all, thank you for your efforts in educating our youth of the consequences of bullying and cruelty." CB