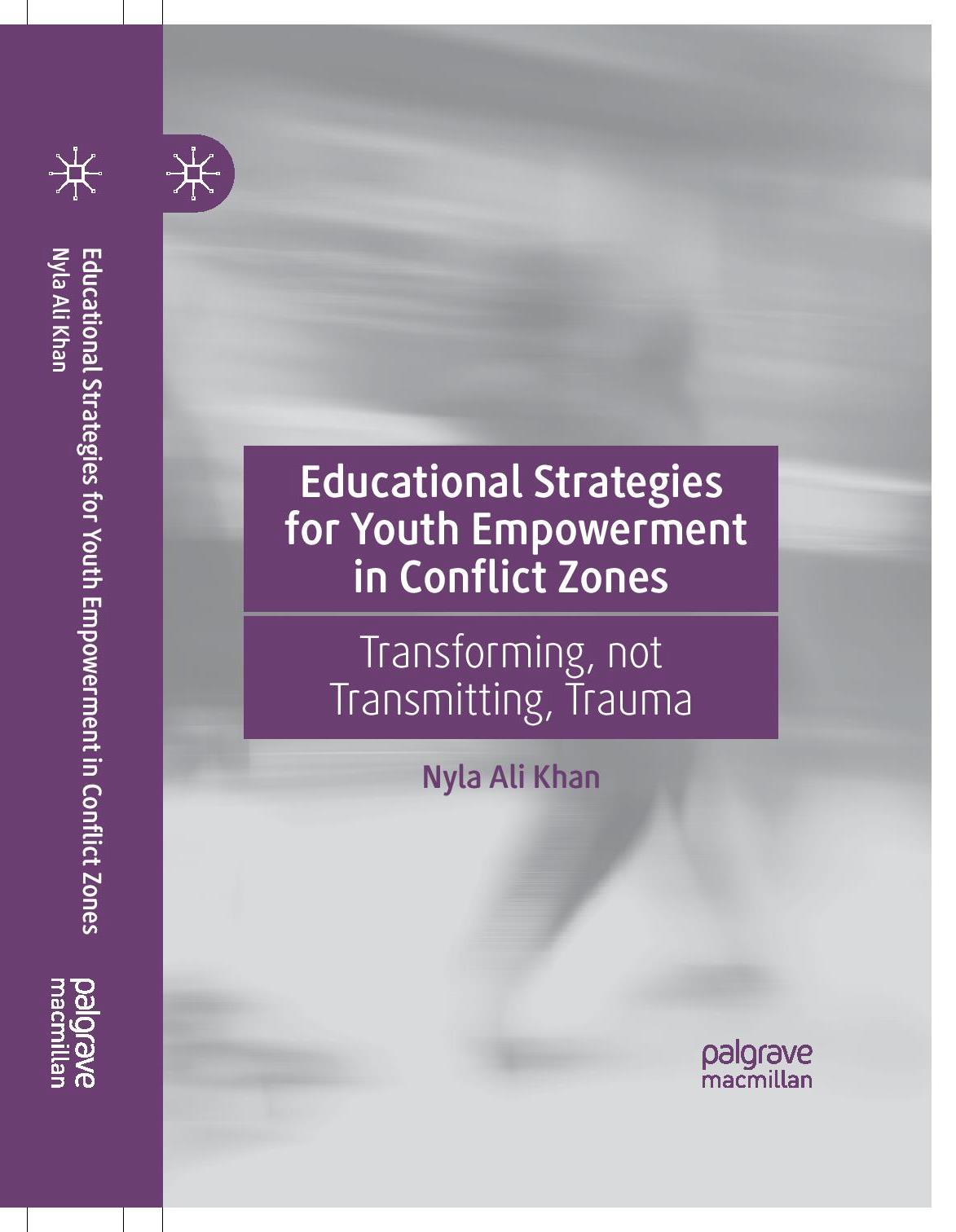 "Dr. Nyla Ali Khan's work illustrates just how important it is to have a multi-disciplinary approach to help facilitate youth empowerment in conflict zones.   It is not only the academic, or the educator, but the citizenry themselves who will benefit from having multiple lenses to understand and change their reality.   This book illustrates the importance of individual and social healing if a society is to transform itself and not simply continue cycles of hatred and revenge.  Not surprisingly, her studies have found that a lot of therapeutic interventions are relevant in greatly varying context.  This is simply because the search for meaning is common to all human beings.   Healing is all the more difficult when people cannot make sense of why they are suffering.  However, this book also shows the danger of failing to see the relationship between the political, economic, and social, on the one hand, and the psychological, emotional, and spiritual on the other. Dr. Nyla Ali Khan rightly rails against the hypocrisy and double-standards of the United States when it comes to questions of Human Rights.  The studies of college students in the US with its social violence and addiction to war, illustrates that in reality there is a much greater level of commonality between young people in the US and young people in Jammu Kashmir.   It is also important to assert that the pursuit of transformative Justice is also part of the journey of healing.  This book will enrich both the understanding and practice of those working for justice and healing in her homeland and many other countries, including the United States.  Thank you to Dr. Nyla Ali Khan for putting the spotlight on the people of Jammu and Kashmir with their urgent need for both Justice and healing" ~ Father Michael Lapsley SSM, Founder of the Institute for the Healing of Memories.
"Begun during her father's final illness and death from lung cancer, Dr. Khan's book resonates with the pain of his loss while she draws strength from his moral stature.  She portrays their early family life as a peaceful idyll, before the tragedies of militarization and trauma in her native land of Jammu and Kashmir.  Responding to the state of higher education in not only Kashmir but Africa and other non-western countries, as well as her deep experience teaching in the U.S., she inquires into the myriad ways to teach students who have experienced trauma in their lives because of military violence or social inequities.  Primarily addressing faculty in non-Western countries, she looks into how best to help faculty teaching students who have experienced trauma in their societies." ~ Catherine Hobbs, Professor Emeritus of English and Women's and Gender Studies at the University of Oklahoma, Norman.
"Nyla Ali Khan studies ethno-cultural dynamics with familiarity, as the scion of a leading political family in Jammu and Kashmir. She explores the dilemma of all activists: how to combine a truthful expression of indignation with an openness toward offenders that enables progress toward reconciliation and mutuality. Dr. Khan has interviewed numerous others who have struggled successfully with the same issue—especially Blacks and Indigenous people in Africa and the United States. Her accounts may hearten today's young activists, for they instantiate the sustaining of resilience and humanity."  ~ Metta Spenser, Professor Emeritus of Sociology at the University of Toronto, Canada.
"In her book, Dr. Nyla Ali Khan brings attention to areas that are mostly ignored in conflict transformation, namely the role of psychological traumatization and the trans-generational transmission of trauma. She also highlights the lack of capacity to deal with such trauma, and thus the need for new groups within particularly non-Northern non-Western societies to do this work. The emphasis on this work is critical, particularly in societies suffering from conflict, which are in a post-conflict period, and/or where there is the potential for violent conflict. Thus, Dr. Nyla Ali Khan is doing a great service to humanity, in our view, by discussing these issues." ~ Dr. Charles Tauber, CEO and Founder of Coalition for Work with Psychotrauma and Peace.
"In approaching Nyla Ali Khan's new work, Educational Strategies for Youth Empowerment in Conflict Zones: Transforming, Not Transmitting, Trauma, we are confronted to take on the metaphysical history of the questions, 'How do we treat others, in our town and around the world?' and 'Why is that treatment, when we observe it, so fraught with cruelty and 'turbulence' and 'disruption,' in Nyla's own words? Dr. Khan's spirit is one exactly to take on such a metaphysics and world wound.  I can call her friend and share her love of teaching, but her work calls me more deeply to understand a world dialogue of Western paradigms fraught with trauma toward others, both native and global.  She is asking that we see clearly pain and disruption of young lives through the East-West global dialogue of political trauma brought down hardest on the citizen, and harder yet on the young persons of our world. Her spirit is the educator, the historian, and the Kashmir patriot, who loves family, country, and the hurting.  The combination of these gives Dr. Khan a special perspective from which to bring her pedagogy to force our own self-evaluation and to understand our connection or disconnection to the suffering worlds of our youth. As Dr. Khan takes on the hope for the democracy and humanity of Kashmir, she asks us to take on our own hope for democracy and humanity, reaching out for the other, in love, care, and understanding." ~ Steve Morrow, Professor of English at Oklahoma City Community College.
"Dr. Nyla Ali Khan's Educational Strategies for Youth Empowerment in Conflict Zones: Transforming not Transmitting Trauma is a timely and much-needed book. In this book, Dr. Khan, in consultation with other scholars, educators, and professionals who are experts in dealing with trauma, presents practical tools for transforming, rather than perpetuating, such trauma. Dr. Khan rightly utilizes education as the means by which to provide not only contextual insights but helpful strategies to enable young people to deal with the trauma they encounter in some of the world's greatest conflict zones. In her work on trauma in such conflict zones and the way in which education can be the means of making trauma transformative rather than debilitating for generations, Dr. Khan calls on her own experience as a member of a prominent Kashmiri family, growing up in Jammu and Kashmir and continuing to have strong personal involvement in the socio-political struggles going on in the land of her birth. The death of her beloved father during the writing of this volume adds a level of empathy and understanding rarely seen in a rigorously researched academic, yet practical monograph. I am convinced that Dr. Khan's ground-breaking work will make an extremely positive difference to countless young people, their families, and communities in South Asia and beyond. Dr. Khan is to be applauded for seeing the need to write this book–and doing so!" ~ William Tabbernee, PhD, Executive Director Emeritus, Oklahoma Conference of Churches.

"Compelling! Educational Strategies for Youth Empowerment in Conflict Zones is an important scholarly guide for educators to empower traumatized youth to heal, in part, through storytelling. As the son of Holocaust survivors, I appreciate the importance of sharing one's story in order to heal. We see the historical and contemporaneous impact of trauma all over the world: ethnic cleansing in Cambodia, Bosnia, and Rwanda; recent racially charged violence in Kenosha, Wisconsin where children watched their father being shot seven times by the police; the racial policies of South Africa that disenfranchised and harmed Black Africans for centuries. We must know where our societies have been in order to move forward. Empathy and healing begin with sacred listening — when stories are heard.~ Michael Korenblit, author of UNTIL WE MEET AGAIN.
"Investing in a child's developing mind is a crucial undertaking in our world, as all humanity will soon depend on today's youth.  Parents, schools, communities, and nations often see the future payoff of their young citizens economically or politically. When they under-nourish or completely avoid the necessary fostering of their critical thinking, agency, and connectedness to the world around them, a paramount set of skills can be lost in those youth.  This book, therefore, is of critical importance. Dr. Khan has lived, learned, and written about complex social considerations in societies fraught with internal and external pressures as well as histories of dehumanization of 'the other.' She brings all her knowledge and previous work to the table.  The world must no longer be divided into East and West, good and bad, developed and undeveloped, 'us' and 'them.' Media and political rhetoric may promote that harmful thinking, as our increasing connectedness via technology can be used to further divide and foment conflict. But the ceaseless work of experts like Dr. Khan can help our future leaders heal and bridge divides.  This book contains necessary background and concrete steps toward engagement and civic building through proven methods like story-telling and comparative learning. It is a must read for those who believe, as I do, that we have everything we need for a better, more equitable, and peaceful world tomorrow in our youth, who are worth every effort to nurture" ~ Dr. Noel Jacobs, Child Psychologist and Community Builder.
"Blending the intellectual rigor of a strategy of comparison, with the passion of a compelling personal narrative that begins in Jammu and Kashmir, this book is a clarion call for the collective societal healing of generational trauma. Nyla Ali Khan's new book delves into the pedagogy of healing and liberation from trauma, beyond the paradigm of a near-exclusive focus on the west. Harnessing a decolonial lens, Khan weaves together insights from trauma theory, largely informed by Holocaust studies, with testimonial accounts of the horrors of war, sexual violence, and the victimization of otherized minority groups, calling on our collective empathy and morality to 'actively work to rehabilitate those who have witnessed or encountered acts of barbarity or savagery.'  Focusing in particular on the 'the heterogeneity of the identities and histories of children' suffering from mental and emotional trauma, she rejects "the propagation of sentimental political discourse that iconizes" trauma victims, instead offering an urgent and necessary lens—as well as paving a path—to healing and building flourishing democratic societies. ~ Diana J. Fox, PhD Professor of Anthropology, Founder/Editor Journal of International Women's Studies, Bridgewater State University
Dr. Nyla Ali Khan  
"In the end, it's not the years in your life that counts. It's the life in your years"~ Lincoln.
Dear Ted,
Happy New Year!
My forthcoming book, Educational Strategies for Youth Empowerment in Conflict Zones: Transforming, Not Transmitting Trauma (New York: Palgrave Macmillan), will be out soon.
I was wondering if you could post about it on NY Journal of Books social media sites. I have attached a picture of the cover.
This book offers fresh and exciting new directions of inquiry into the highly contentious issue of conflict resolution in South Asia. By shifting its gaze from a politics of division mired in ethno-nationalisms into a healing and restorative focus, the author moves the dialogue forward into the realm of community, healing, and shared governance. The book analyzes the major constitutional and political missteps that have led to the current situation of violence and distrust in countries such as India and Pakistan, keeping the focus on Jammu and Kashmir. This monograph will appeal to a wide range of audiences including academics, researchers, graduate students interested in South Asian politics, development, trauma studies, and peace and conflict studies.
 "Kashmir through centuries has been noted for communal harmony and religious syncretism and Dr. Nyla Ali Khan is obviously imbued with the same spirit of Kashmiriyat about which all Kashmiris can be genuinely proud. I have always maintained that a solution of J&K is possible if there is a political will on both sides and the solution envisages a win-win for Kashmiris Pakistanis and Indians. I would conclude by congratulating Dr. Khan for her efforts towards suggesting the strategies that will help reduce some of the pain that all Kashmiris,  men, women and children feel so acutely" ~ Khurshid Mehmud  Kasuri, Former Minister of Foreign Affairs of Pakistan.
"Through the dynamic interplay of scholars, activists, and clinicians, Dr. Nyla establishes that intergenerational conversations about historical and political traumas lead to healing and empowerment at both individual and collective levels. Our survival depends on a significant slice of the human race accomplishing changes in worldviews from one of  loyalties to ultra-right wing nationalisms to loyalty to societal reconstruction, peace-building, and life itself. Dr. Nyla Ali Khan's balanced views and arguments have enabled her to rise above partisan loyalties and fundamentalist thinking. I congratulate her for this book" ~ Yashwant Sinha, Former Minister of External Affairs and Finance of India.
"Nyla Ali Khan's prescriptions, drawn from her own suffering and psychological rejuvenation, are universally applicable and can be applied to society as whole and not just a particularly strong individual like herself. She is an exile only in a physical sense for her heart beats in her vale and her mind is enveloped not in hatred, which is the obvious reaction, but in memories of the beauty of Kashmir and the culture and values of her people. The author exemplifies practical ways of moving beyond present trauma by taking the professional path of education, the only way coming generations of Kashmiris and others can be led to values of eternal and lasting importance eschewing momentary feelings of revenge. A passionate and deeply felt appeal that will, I am sure, find a wide and appreciate readership" ~ Mani Shankar Aiyar, Former Minister of Development of North Eastern Region of India.
"Dr. Khan refers to the richness found in the legacy of her own parents, grandparents and others who chose Frankl's concept of Self-Transcendence instead of destroying what has been achieved by others. This legacy has instilled in her a love for her homeland and given her an appreciation for the strong intergenerational support system she received. Dr. Khan's book belongs in the homes, educational classroom, and libraries around the world" ~ Dr. Robert C. Barnes, President of Viktor Frankl Institute of Logotherapy.