Michael ("Mike") and Joan Korenblit, founders of the Respect Diversity Foundation, serve as president and executive director.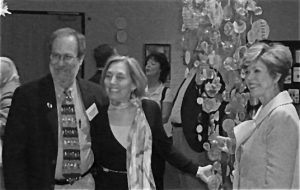 Both have dedicated their lives to this work, running the Foundation out of their home and striving daily to ensure that donors' investments are managed to ensure optimal cost-effectiveness ("doing well by dealing prudently").
Under their conscientious direction, administrative costs are minimized, and 75% of RDF's budget is directly dedicated to evidence-based programming, with only a small percentage of the remaining 25% invested in fundraising.
Michael is a bestselling author (Until We Meet Again), speaker and former public-school educator, as well as the executive producer of educational documentaries and an award-winning public affairs series on CSPAN. He provides engaged, "hands-on" leadership for the organization, even as he shares the lessons of the Holocaust and their relevance today. A compelling presenter whose gifts and talents could easily have propelled him to a successful private career in speaking, he has instead devoted his energies to founding and leading RDF and taking the story of his parents (Majir and Manya Korenblit, Holocaust survivors) to audiences most likely to effect change in their communities and the world – especially schools. Through his presentation, the story becomes a fulcrum for highly-salient issues, such as bullying (student or workplace), inter-faith understanding, civic engagement, social activism, social justice, and others. Since 2000, hundreds of schools, faith and community groups, agencies, businesses, and corporations throughout Oklahoma and the nation have invited him to give talks and lead workshops – reporting meaningful transformations in their organizational cultures after his presentations.
Joan is an author of  several cookbooks and teachers' guides.  She is a poet and teaching artist/workshop leader, guiding scores of students to write poetry published in magazines, newspapers, and books. For the past thirteen years, Joan has been RDF's "management guru." She manages and administrates all of RDF's programs, projects and events. Over the past twelve years (Since RDF was founded, Joan has nurtured close, working relationships with educators, schools and leaders throughout Oklahoma. Not only have her efforts deeply impacted the lives of Oklahoma students and educators, her work has brought national attention to our state's growing appreciation of the values of tolerance and respect for all, through the publicity she has garnered for RDF outreaches (including our annual Arts Competition & Exhibition). A compelling speaker and workshop leader in her own right, Joan has dedicated herself to developing the arts-integration aspect of RDF's work, believing that it is crucial to solidifying and amplifying the transformations resulting from the efforts of all of RDF's speakers and artists.
Both Mike and Joan serve as role models of nonprofit activism, integrity, advocacy, and generosity.
As such, they have won numerous awards and have become two of Oklahoma City's most admired citizens.
Contact us to invite Mike or Joan to speak or create programming for your school or organization.